California Dreamin'
By LIZ HAGER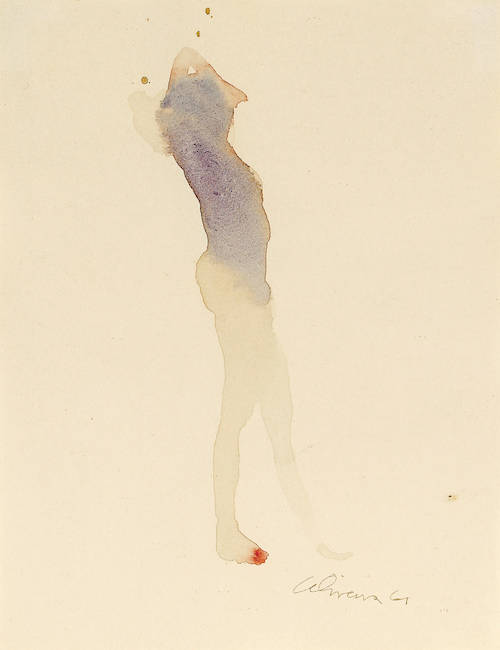 Nathan Oliveira, Standing Nude-Red Foot, 1961, watercolor on paper, 7 3/4 x 6 inches. Estimate: $6,00-8,000. (Photo courtesy Bonham's SF)
Not playing the California lottery doesn't prevent me from dreaming about what I would do with the money were I to win. I'd give a good chunk to people who lack the basics of privileged living—education, social services, medicine. The rest of the money would be earmarked for my guilty pleasures, traveling and art.
Yesterday's blustery weather provided a perfect opportunity to indulge this fantasy.  I ran down to view Bonham's auction lot Made in California and see what my imaginary cash might buy me.
This auction showcases 183 works, mostly paintings and works on paper, although there are perhaps 20 sculptures and ceramic pieces.  It represents a range of Californian-based artists, ranging from well-known to obscure. Not all were born in this country and the participation is by no means all-inclusive.  No Hockneys, for example.  Though the work largely spans the years from 1930 to 2000, a lot of it falls into two periods: mid-century or 1970-90s. The Made in California presentation is a reminder that hanging mid-century work en masse can cast a dreary spell over a room.
With that said, however, there were some very nice surprises, even a few things I'd want to bid on, should I come into a little extra cash between now and two weeks from Tuesday.
.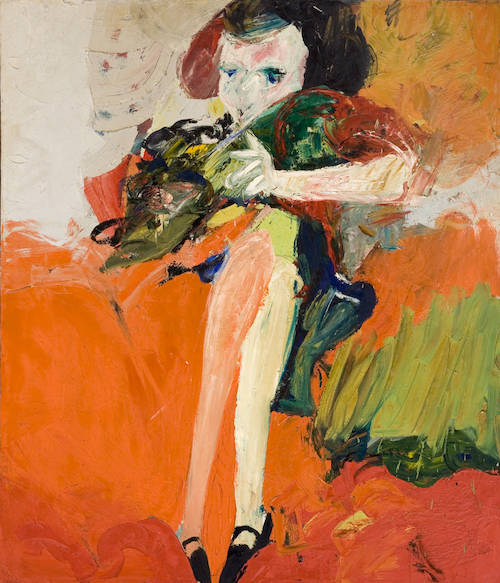 Edward Ruscha, Blue-Eyed Girl, 1959, oil on canvas, 70 3/4 x 60 3/4." Estimate $100,000-200,000. (Photo courtesy Bonham's SF)
Unlike Chuck Close, Ed Ruscha did not distroy his early "de Kooning" work. Made in California features in the lobby Ruscha's startlingly-expressionistic "Blue-Eyed Girl." It's diametrically different from the flat, slick text paintings for which the artist is best known. Not many opportunities exist to see work from Ruscha's early career (barely out of his student days), so this was indeed a treat.  At an upper estimate of $200,000, it's the most expensive piece in the show.
Inch for inch, however, a Thiebaud landscape—"Mexican Beach Boys," (1961)—is by far more expensive (i.e. $272/square inch vs. Ruscha's $47/square inch). At an upper estimate of $462/square inch, Sam Francis' miniature untitled work pictured below sits firmly in the stratosphere, another illustration of the maxim, or its corollary: "big (expensive) things come in small packages."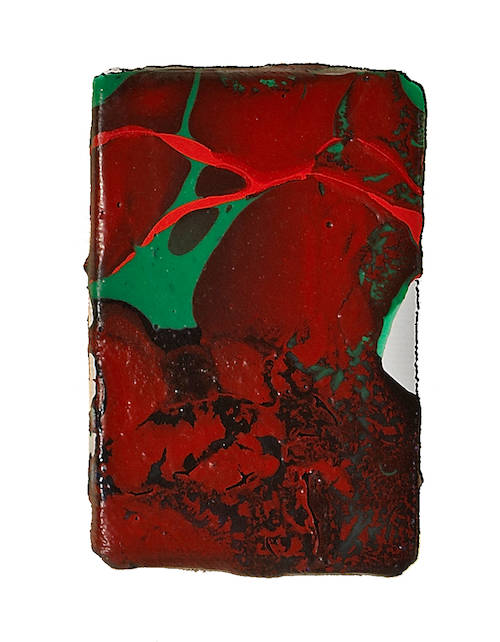 Sam Francis, Untitled, 1986, acrylic on canvas, 3 1/4 x 2."  Estimate: $2,000-3,000. (Photo courtesy Bonham's SF)
Among the expressionist figures and abstract work of Joan Brown is her sparse illustrative drawing, "Mary Julia." Here then is David Hockney channelling his way in to the collection.  It's the simplicity of the scene, the contrast of the decisive straight lines of the room with the tentative curved outlines of the dress that hooked me. Or maybe it's the virtuosity of feeling that Brown achieves with variations on a single color, red. I don't know exactly why, but I know I'm in love.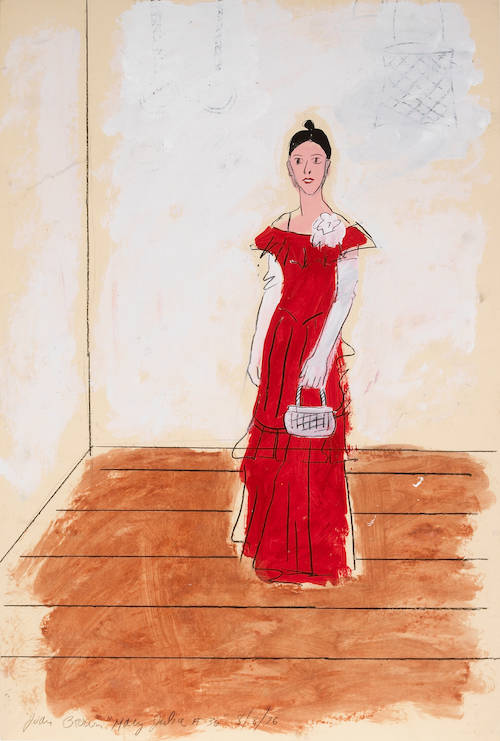 Joan Brown, Mary Julia #36, 1976, acrylic and crayon on paper, 36 x24." Estimate: $10,000-15,000. (Photo courtesy Bonham's SF)
Sure, I'd also love to own Christopher Brown's 1977 painting below for its Superman on the TV screen, hinged to the main canvas so it can swing out perpendicularly. The artist's seemingly simplistic painting technique belies the work's metaphorical and physical sophistication.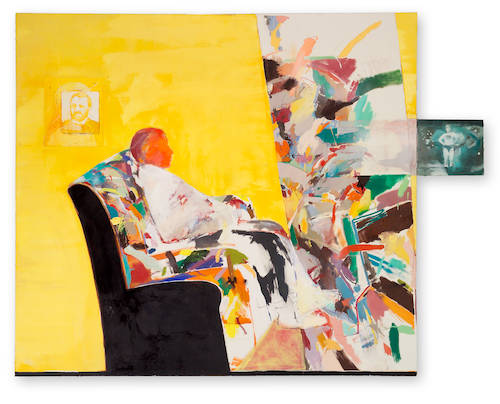 Christopher Brown, As Close as You'll Ever Get, oil on canvas, 65 x 71  3/4." Estimate: $10,000-15,000. (Photo courtesy Bonham's SF)
But if I had $75,000 to spend, I'd blow it all on David Park's evocative and whimsical depiction of an intimate act of every day life. This comes from Park's early figurative period, before he started on his decade of abstraction. He must have been around women a lot, because he's artfully managed to reduce the banal and yet complicated gesture of earring attachment to an essence of form and emotion. Oh, the monochromatic palette; those gorgeous interlocking U-shapes, negative and positives; the subtle color changes in the flesh that creates depth; the mouth open in concentration. . .
Yes, I know just the place for this painting. Well, actually to do it justice, I'd need one of those walk in closets, so "Girl with Earring" could have her own alcove,  a halogen spot lighting it up like a jewel. . .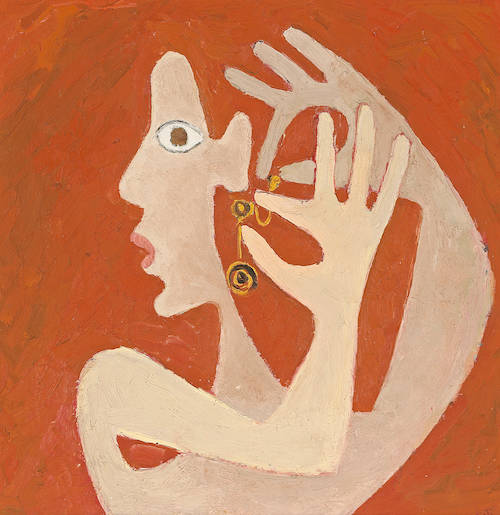 David Park, Girl with Earring, ca. 1943, oil on masonite, 15″ square. Estimate: $50,000-75,000. (Photo courtesy Bonham's SF)
Hey, wait just a minute, I don't have to scrimp.  I've won the lottery. I have millions to spend! Clear the calendar, I've got an auction to attend.
Wider Connections
Chris Brown on Spark
2 Responses to "California Dreamin'"
Oh My God – too many gorgeous pieces to chose from and just as my tiny IRA tanks! But a woman can dream! In the meantime, there are always reproductions. Thanks for posting this – I had no idea that this was going on.

UPDATE
This auction was held on Tuesday (11/18). Actual sale prices (exclusive of buyer's commission) of pieces pictured —

Nathan Oliveira $4,000
Ed Ruscha $97,500
Sam Francis $3,000
Joan Mitchell $11,000
Christopher Brown $5,000
David Park $85,000

One data set on the softening of the art market.